GTA: The Criminal Enterprises - The Loop
Play Sound
Air-Letten (エア=レッテン関所) is the Royal Army's guarded checkpoint between the regions of Ruan and Zeiss in Liberl, situated 170 selge southeast of the City of Ruan.
Map
Air-Letten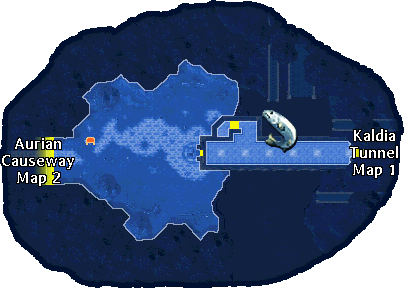 Background
The Air-Letten checkpoint is situated in a stone structure that was originally built during the Middle Ages. It was designed to let water flow from Valleria Lakeshore to the Azelia Bay through the man-made Lhotse Waterway (ローツェ水道). The present-day waterfalls are a popular attraction for tourists and fishing enthusiasts, the result of the ruins' erosion.
Estelle and Joshua can first head to Air-Letten on their way to convince Duke Dunan to stay elsewhere in order to avoid troubling the rest of travelers. Later the bracers travel through Air-Letten on their way to Zeiss, heading through the Kaldia Tunnel on foot.
Mess Hall
Air-Letten - Mess Hall
エア=レッテン・食堂
Items Sold
Briny Delight
Heals 450HP/DEF+10%
350 mira
Vegetable Sandwich
Heals 150HP
150 mira
Sepith Trade
= 12 mira
= 14 mira
= 12 mira
= 12 mira
= 12 mira
= 14 mira
= 14 mira
Rest Stop
Air-Letten - Rest Stop
エア=レッテン・休憩所
Actions
Rest
30 mira per party member
Sepith Trade
= 12 mira
= 14 mira
= 12 mira
= 12 mira
= 12 mira
= 14 mira
= 14 mira
Background
Estelle visits the checkpoint to interview one of the soldiers, who has witnessed a white shadow. There she meets a young girl by the name of Renne, who takes a liking to her, and her parents.
Hello there, beautiful. May I have a moment of your time?
Please be aware spoilers for
Trails in the Sky SC
may be present in the following section. Hit [Show] on the right if the show must go on. Adios, amigos!
During the country-wide Orbal Shutdown Phenomenon, the orbment charging station stops functioning, and the lights illuminating Kaldia Tunnel go out, making it pitch-black inside. Despite security being increased, Estelle and the other bracers are granted a special exception that allows them to cross the checkpoint freely.
There we go, the end of spoilers. Thank you for your time!
---
Mess Hall
Air-Letten - Mess Hall
エア=レッテン・食堂
Items Sold
Salt-Roasted Fish
HP1100/DEF+10%
350 mira
Herb Sandwich
HP700/Cures poison
150 mira
Sepith Trade
= 20 mira
= 20 mira
= 20 mira
= 20 mira
= 20 mira
= 60 mira
= 40 mira
Rest Stop
Air-Letten - Rest Stop
エア=レッテン・休憩所
Actions
Rest
50 mira per party member
Sepith Trade
= 20 mira
= 20 mira
= 20 mira
= 20 mira
= 20 mira
= 60 mira
= 40 mira
Location
Fish
Bait

Air-Letten Waterfall
Crab
Earthworm (30%), Polychaete (40%), Shrimplet (27.8%)
Dace
River Bug (33.3%), Roe (27.3%), Red Flies (75%)
Gold Angelfish
Polychaete (60%), Shrimplet (16.7%)
Eel
Earthworm (40%)
Salmon
River Bug (66.7%), Roe (36.4%), Dace (40%)
Sea Bass
Shrimplet (38.9%), Dace (60%), Kasago (100%)
Trout
Earthworm (30%), Roe (36.4%), Red Flies (25%), Shrimplet (16.7%)
Organisation
Command
Guardmen
Other
Gallery