The Bellguard Gate (ベルガード門) is a guarded border checkpoint in Crossbell near the western border with Erebonia. The Bellguard Gate is situated across the Garrelia Fortress on the edge of the Garrelia Canyon's precipice.
Background
Bellguard Gate is directly commanded by the Crossbell Guardian Force's commander. Randy Orlando was stationed here before joining the Special Support Section under recommendation of Deputy Commander Sonya Baelz, after getting into trouble with the commander for his refusal to use a rifle and being discharged as a result.
After the Anniversary Festival, guards from Bellguard Gate are sent to investigate a strange phenomenon in the Moon Temple, but they're driven off by ghosts and fiends. Noel Seeker from Tangram Gate then asks the SSS for help investigating it.
Hello there, beautiful. May I have a moment of your time?
Please be aware spoilers for
Trails from Zero
may be present in the following section. Hit [Show] on the right if the show must go on. Adios, amigos!
Following the investigation into Gnosis and the disappearance of Revache, Bellguard Gate forces assault the Bracer Guild and the SSS. After being given Gnosis by the commander, misled by Joachim Guenter into thinking it was medical supplements, the entire force comes under his control, same as Revache. The brainwashed forces then chase the SSS throughout the city, before they're able to take shelter in the IBC building.
However, after they plant a bomb to open the gates, the SSS comes out to defend the bank while their allies defuse the bomb, driving off wave after wave of guardsmen (including Mireille), until they're finally surrounded. Guenter then speaks through a guardsman, ordering them to relinquish KeA or be forced under his control with Gnosis, but Arios MacLaine arrives to neutralize the rest of the guardsmen and secure the bank.
After telling them that Estelle and Joshua have uncovered Guenter's base in the Sun Fort, they decide to have Sergei Lou drive the SSS to the Fort in Dieter Crois' armored car to arrest him while the rest stay behind to protect KeA. The car comes under attack of the new combat vehicles of Bellguard Gate, armed with missiles and machineguns that injure the chief, but Noel comes to their aid in a vehicle of her own, taking out one of the controlled vehicles and holding the other at bay while the SSS continue.
Once Guenter has been dealt with, every member of the guard and mafia under his control becomes unconscious, recovering their senses later.
There we go, the end of spoilers. Thank you for your time!
---
Map
Bellguard Gate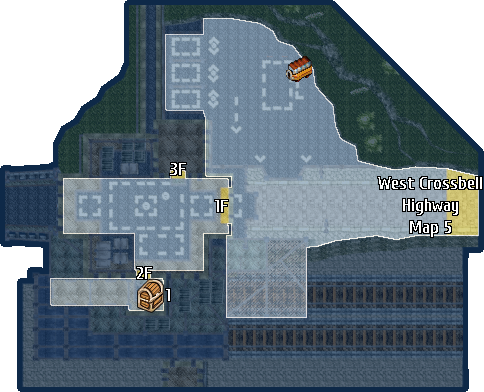 Key
Contents
Chest Quote
1
Iron Leggings
Am I the only one who thinks the name 'Bellguard'
is just a little on the nose?
Mess Hall
Bellguard Gate - Mess Hall
ベルガード門・食堂
Items Sold
Hearty Hotpot
Restores 40% HP/CP+40
2800 mira
Sepith Trade
= 20 mira
= 20 mira
= 20 mira
= 20 mira
= 30 mira
= 30 mira
= 30 mira
Rest Area
Bellguard Gate - Rest Area
ベルガード門・休憩所
Actions
Rest
100 mira per party member
Sepith Trade
= 20 mira
= 20 mira
= 20 mira
= 20 mira
= 30 mira
= 30 mira
= 30 mira
Organisation
Command
Guardsmen
Brood
Dalia
Connors
Sigg
Cless
Carter
Loggins
Supportive
Stella (canteen)
Beyond (resting area)