Hold on, it looks like
Millium
wants to tell you something.
Hey-hey! White Rabbit here! Lammy scanned this article and said it contains unmarked spoilers for all Trails games. Turn back now if you don't want to get lasered! Okay, byee!
The City of Ardent (公都アーデント) is the capital city of Remiferia. Ardent is a historical city, situated in the north of the Principality bordering the North Sea.
Background
Ardent can be divided in two areas: Old City (古都) and New Town (新市街); its hyper-modern hospital and the enormous head offices of pharmaceutical companies are built right next to its traditional, ancient centre. Usages of orbal energy are spreading rapidly.
With the development of aircrafts, maritime transport is rapidly growing obsolete, making its former harbour a beachfront park popular with tourists for the statues of deers.
Locations
Ballet Theatre (公国バレエ劇場, koukoku baree gekijou)
Remiferia Cathedral (アーデント大聖堂, aadento daiseidou)
Beachfront Park (海浜公園, kaihin kouen)
Fisherman's Guild - Remiferia Branch (釣公師団レミフェリア支部, tsuri kou shidan remiferia shi-bu)
Remiferia Police Headquarters (公都警察本部, kouto keisatsu-honbu)
Ardent Press (アーデント・プレス, aadento puresu)
Emeria General Hospital (エメリア総合病院, emeria sougou-byouin)
Ford Clinic (フォード診療所, foodo shinryousho)
Ardent Airport (アーデント空港, aadento kuukou)
"Black Emperor" Hideout (アジト《ブラックエンペラー》, ajito "burakku emperaa")
Ardent Gate (アーデント大門, aadento daimon)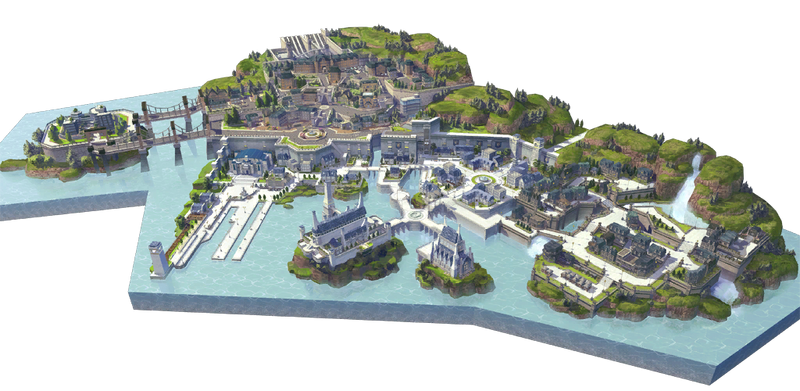 Community content is available under
CC-BY-SA
unless otherwise noted.