Hold on, it looks like
Millium
wants to tell you something.
Hey-hey! White Rabbit here! Lammy scanned this article and said it contains unmarked spoilers for all Kiseki games. Turn back now if you don't want to get lasered! OK, byee!
Duvalie
(デュバリィ), also known as
Duvalie
the Swift
(
神速
のデュバリィ) and romanised by Falcom as
Dubarry
, is the head knight of the
Stahlritter
, a trio of knights loyal to the Seventh
Anguis
of
Ouroboros
,
Arianrhod
.
Profile
Duvalie is a serious woman who greatly reveres her lord. Due to her personality quirks and highly irritable nature, Duvalie is often annoyed by others, who either do it intentionally by virtue of their teasing natures (such as Crow Armbrust and Ennea) or unintentionally by virtue of their casual natures (such as Bleublanc and McBurn).
Childhood
Little is known of her past. In S.1183, she was born into a small noble family in a remote region of Zemuria.[2] Her hometown was attacked by brigands[3] and she parted with her parents, whose fate remains unknown, as a young girl.[2]
Duvalie was discovered by Arianrhod in S.1198. Duvalie, who had always admired the legend of the Lance Maiden of the faraway Erebonia.[2] Arianrhod revealed her true identity to Duvalie and patiently trained her.[2]
Duvalie was both the youngest and first member of the Stahlritter, which later recruited Ines and Ennea. Ines was a former Bracer, and Ennea was a victim of the DG Cult (which Duvalie and Arianrhod saved her from before she joined in gratitude).
She looked up to Loewe due to his expert swordsmanship and was shown some techniques by him. She once beat him, but lost the other "ninety-nine or so battles". Duvalie is a very powerful swordsman: as Bleublanc once put it, "she may not have a number among the Enforcers [of Ouroboros], but it's most assuredly not for a lack of skill". Duvalie has an interest in the Arseid family, and this has led to her having a particular interest in the skills of Laura.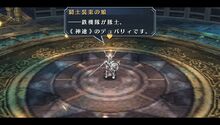 Duvalie is introduced as one of the three members of the Stahlritter whom the Special Support Section fights as they ascend the Stargazer's Tower. She only appears briefly. Her actions during this game overlap with her actions during Trails of Cold Steel II; she is working in both Crossbell and Erebonia, while Arianrhod and the Stahlritter are only seen working in Crossbell.
She makes a more proper appearance in the second Cold Steel game. Along with McBurn, Bleublanc and Vita Clotilde, Duvalie is one of the three agents of Ouroboros sent to assist the Noble Alliance during the Phantasmal Blaze Plan. Duvalie first crosses paths with Class VII at Bareahard where she fights alongside McBurn. Duvalie may be knocked down by the party, but McBurn will stop holding back once this happens and defeat the party afterwards.
Aboard the Pantagruel, she later has a chat with Rean Schwarzer. She comments on how because she is not an Enforcer, she does not require the "darkness" that they usually have. She briefly fights Rean in his ogre form alongside Bleublanc.
She next squares off against the party at Helmut Albarea's fortress. McBurn tags along once again, but since he is unconvinced that Class VII can make him fight at full power (all he cares about), he decides to abandon the mission. Duvalie is knocked down, but this is partially because this battle takes place during the same day as her battle against the SSS in Ao. After losing, she leaves, not willing to defend the Duke after his crimes, remarking that her only objective was to watch the fortress fall (and not to actually defend the duke).
She last appears fighting alongside Bleublanc in the first roadblock at the Infernal Castle. After being pushed back at first, Duvalie awakens her inner power, but they are interrupted by Olivert Reise Arnor and Toval Randonneur. The two of them take on the Ouroboros members before the rest of Class VII proceeds inward. During this time, Duvalie comments that they'd need to bring Mueller Vander if they wanted to impress her (and he was in fact fighting outside with Neithardt), showing that she is familar with and holds respect for the Vander school.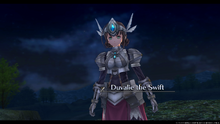 Alongside the rest of the Stahlritter and some other Ouroboros members, Duvalie is now working for the society's plan to reclaim the Phantasmal Blaze Plan from Giliath Osborne. She first works in the Saint-Arkh region alongside Shirley Orlando on the first Aion experiment. Alongside Shirley, she battles some of Class VII again near Hamel, after all of them pay their respects to the deceased Loewe.
She later participates in the third Aion experiment alongside her fellow Stahlritter members in the Ordis/Juno regions. There, she and the rest of the Stahlritter fight alongside the Steel Maiden during her battle with Aurelia Le Guin and some members of Class VII.
At the final chapter of the game, she does not enter the Gral of Erebos, instead staying outside of it along with the rest of the Stahlritter. Unlike Ines and Ennea, Duvalie seems disturbed to discover that her master's plot was the Great Twilight, which sought to end the world.
Unsatisfied with the consequences of the plan which seeks to end the world, Duvalie decides to leave the Stahlritter and Arianrhod, and helps Rean Schwarzer and Crow Armbrust escape the Black Workshop, having to cross blades with McBurn, Ines and Ennea in the process. Later, she fights alongside Crow in the First Rivalry he has against Rean, at the end of which Crow and Duvalie both join Rean's party to bring an end to the Great Twilight. She aids Rean in defeating Ines, Ennea and Arianrhod in the third of the Spirit Shrines, before witnessing the assassination of her lord at the hands of Rufus Albarea piloting the golden knight, to which she is distraught.
At the end of the game, Duvalie reunites with Ines and Ennea, and tags alongside Zephyr members Xeno and Leonidas, to lead a charge on one of the Salt Pales. Along with her fellow Stahlritter members, Duvalie did not return to Ouroboros at the conclusion of the arc.
Gameplay
Weapons
Name
Cost
Upgrade materials
Acquired
32px
Licht Bringer
リヒトブリンガー
—
—
Fragment: "A Broken Sword, and Then..."
[STR+945 RNG+1 必殺2%]

32px
Licht Bringer +1
リヒトブリンガー+1
—
—
Act II: "Stars of Destiny"
[STR+1045 RNG+1 必殺2%]

32px
Licht Bringer +2
リヒトブリンガー+2
—
—
Act II: "Stars of Destiny" (4)
[STR+1145 RNG+1 必殺2%]

32px
Licht Bringer +3
リヒトブリンガー+3
—
—
Act III: "Hour of the Lions ~Whereabouts of Light~"
[STR+1245 RNG+1 必殺2%]

32px
Licht Bringer +4
リヒトブリンガー+4
—
—
Act III: "Hour of the Lions ~Whereabouts of Light~" (2)
[STR+1345 RNG+1 必殺2%]

32px
Licht Bringer +5
リヒトブリンガー+5
—
—
Final Curtain: " Flower Petals at Blaze's End"
[STR+1445 RNG+1 必殺2%]

Crafts
Name
Cost
Delay
Acquire
Flame Brand
豪炎剣
40
20
Initial
攻撃(威力D ブレイクC 崩し有効):
円L(地点指定):炎傷40%
Ice Brand
劫氷剣
40
20
Initial
攻撃(威力D ブレイクC 崩し有効):
円L(地点指定):凍結40%

剛雷剣
40
20
Initial
攻撃(威力D ブレイクC 崩し有効):
円L(地点指定):封技40%

神速ノ太刀
40
20
Initial
攻撃(威力C ブレイクA 崩し有効):
直線S+(地点指定):駆動解除100% 遅延+4

影技・剣帝陣
80
20
Initial
攻撃(威力S+ ブレイクD 崩し+25%):
単体:混乱・必殺40%
Prism Calibur
プリズムキャリバー
100+
40
Initial
攻撃(威力4S ブレイクD 崩し無効):全体:4ターンSPD↓(大)
Name
Description
豪炎剣
攻撃クラフト:小円(地点指定)・確率15%で炎傷
火属性の剣技で敵を攻撃する、確率15%で炎傷状態に。
豪氷剣
攻撃クラフト:小円(地点指定)・確率15%で凍結
水属性の剣技で敵を攻撃する,確率15%で凍結状態に。
豪雷剣
攻撃クラフト:小円(地点指定)・確率15%で毒
風属性の剣技で敵を攻撃する,確率15%で毒状態に。
瞬迅剣
攻撃クラフト:直線(貫通)
高速で武器を振り、直線の風圧を作り敵を攻撃する。
虹色剣
攻撃Sクラフト:大円
自身の速度を限界にアップし、敵を強烈な攻撃を与える。
Brave Order
Name
BP
Effect
Lighting Sword
ライトニングソード
3
Delay -60% (4 turns)
STR/SPD raised (S) (2 turns)
Gallery
Trivia
Duvalie and Crow Armbrust are distinguished as the characters who are fought against at least once in the most games, with four. She is faced as a boss in Ao and each of the last three Cold Steel games, while Crow is faced as a boss in each of the Cold Steel games.
Fought a total of 9 times, Duvalie is tied with McBurn as being the most fought boss in the series.
In Trails of Cold Steel III, Duvalie's S-Craft animation and voice can be found in the game files, even though she will never use it during any of the fights against her. The English version can be seen here and the Japanese version here.
References
Community content is available under
CC-BY-SA
unless otherwise noted.