Fire Emblem Warriors: Three Hopes - The Loop
Play Sound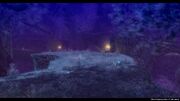 The Eerie Woods (魔の森) is a location situated in the folded space between The Isthmia Great Forest and the village of Eryn.
Background
The forest is traditionally associated with the Hexen Clan and serves as a sort of buffer zone between their home and the greater Isthmian Forest. Throughout the woods, the higher elements are active and many spirits can be found. Erynflowers grow in abundance within the forest along with special plants and herbs used in the medicines and equipment used by the Hexen Clan. The location is lit with an ethereal blue glow and what appears to be bioluminescence. Teleport obelisks must be sued to access different areas of the forest or the village itself. The Eerie woods are known to change in appearance and layout.
It is also the location of the Saint-Gral Labyrinth. Upon approach to the labyrinth, all the colour is seemingly sucked from the atmosphere, appearing grey and monotonous.
New Class VII, accompanied by Randy Orlando traverse through the Eerie Woods on their way to the teleportation obelisks that will take them to Sutherland via the Isthmian Great Forest or Lamarre via the Avon Hills. They also pass through tAltina Orion goes into the forest with Emma Millstein to locate materials to fix the pendant that helps Rean Schwarzer control his powers as the Sacrifice. It is also the site where one of the Cryptids appear.
Later, Class VII must infiltrate Eryn through the Eerie Woods and the Saint Gral Labyrinth when Ouroboros forces led by Gilbert Stein occupy the village and meddle with the magic barrier through use of three orbal disruptors. Rean's team confronts several enhanced jaegers in the forest.
Gallery