Leica District (ライカ地区), also known as the academic district (文教地区), is a district in the west of Heimdallr, Erebonia. It is the home of the Imperial Museum and the Vander school.

Locations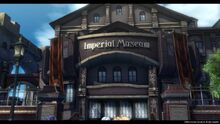 Imperial Museum. Head of the museum is Ravan. Curators at the museum are Rilke and Thors alumna Dorothee.

Vander School - Headquarters (ヴァンダール流の総本部) serves as both the home of the Vander Family and the headquarters of the Vander school of swordsmanship. Aurier Vander runs the school. Leading disciples are Ban and Reifon. New pupils are Carlo, who was transfered from a branch school, and Ellen. They are accompanied by the cat Prime.

Lakelord Company (レイクロード社) is a fishing gear maker. The company is ran by Lakelord II, father of William (Lakelord III) and Kenneth Lakelord. He is assisted by Receptionist Harris.

Rieveldt Company (リーヴェルト社) is a music instrument maker. President Morgan runs the company since Claire Rieveldt transferred management rights to him. He used to be a musician himself. He is assisted by Kalinka, a student at the Music Academy and a friend of Elliot Craig. Customer Adams recommends Rieveldt's harmonicas.

Art & Cafe "Lucien" (美術喫茶《ルシアン》) is ran by Nancy. Regulars are Professor Carton, associate professor at the Imperial Institute of Science and Michael Gideon's junior, and one of his students, Milia. Outside author Clayton and his childhood friend Theodora can be found.
Leica District - House is the family home of Thors alumna Emily. Since Emily moved out to join the Imperial Army as a pilot together with her friend Theresia, her parents Emmerson and Camille live there with their son, Levin.
Other NPCs in the area: Old Man Nolan is a low-ranking noble with no terrtiory; Lady Raniera; and Sir Blobel.
Gallery