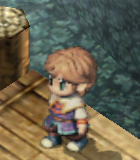 Lewey is an inhabitant of Ravennue Village.
He's one of the younger children living in the village. He's friends with Vince and Fran who are about the same age as he is.
Lewey likes to look at the stars at night, so he has the habit of sneaking out of the house after everyone's asleep and look at the sky. One night he spotted two large shadows flying over the village and heading north. At first he thought they were dragons, which resulted in ridicule from his friends, which hurt him. This became worse when the soldiers sent to investigate the rumor went to check out the area north of the village and found nothing.
Eventually though, Estelle, Joshua and Scherazard pay a visit to the village after hearing about Lewey's sighting from Nial. Realizing that Lewey could have seen the Linde, the bracers investigate the northern area themselves and find the airship inside the abandoned mine, proving to the entire village that Lewey wasn't imagining things.
Relations
Lewey is the son of Figaro and the friend of Vince and Fran.
Community content is available under
CC-BY-SA
unless otherwise noted.