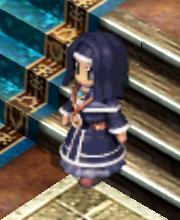 Sister Noah is a nun on duty at the Grand Cathedral in Grancel.
A devout member of the Septian Church, she assists the bishop and archbishop with the daily mass, but that's only one of the duties she fulfills at the cathedral. She also checks all the hymnals on a daily basis after mass, to make sure no doodles or dirty limericks were written in the marges during mass.
Her most important duty, however, is instructing the newly-cloistered nuns. Sister May, the nun working at the church in Rolent, is one of Noah's former pupils. Nowadays, she's instructing a new arrival called Sister Ellen. Noah tends to worry a bit about her since although she's polite and devoted, she also has no sense of direction and frequently tends to get lost when away from the church, often causing her to return to the church much later than she should. Nevertheless, Noah's not frustrated with her understudy, mentioning that people's faults are part of who they are.
What Noah doesn't seem to know is that her apprentice is really the commander of the Royal Guards, Lieutenant Julia Schwarz, in disguise who sought asylum at the cathedral after she and the other royal guardsmen were framed and marked for treason. Only the archbishop seems aware of Sister Ellen's true identity.
Sister Noah also mentions thinking of holding a bazaar at the church after the birthday celebration at one point, though it's not clear if she goes through with it.
Relations
Sister Noah is a subordinate of Archbishop Currant and Bishop Reval.
She's also a former teacher of Sister May.