GTA: The Criminal Enterprises - The Loop
Play Sound
The Rolent Sewers are a series of subterranean waterworks and sewer systems located beneath the City of Rolent in Liberl.
Map
Rolent Sewers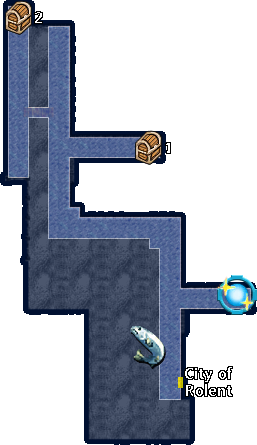 Background
Estelle and Joshua Bright must complete a test in the sewers to become junior bracers. The test involves Estelle and Joshua going through the sewers and defeating all the monsters on the way to retrieve two small boxes to bring back to Scherazard Harvey. If the two small boxes are tampered with in any way or fake, Estelle and Joshua would fail their test. Fortunately, Joshua keeps Estelle's curious side from going too far and they succeed in their mission.
| Key | Contents | Chest Quote |
| --- | --- | --- |
| 1 | Reviving Balm | The chest is empty...because of you. Nice work, hero. |
| 2 | Small Box ×2[note 1] | By looking inside this chest again, you flunk! ...Just kidding. |
Background
Estelle and the bracers end up in the sewers again following Phantom Thief B's clues after he stole the Malga Mine's royal commission, and they are ambushed by monsters in the locked room that the key they obtained opens.
Key
Contents
Chest Quote
1
EP Charge
<YOU HAVE ACTIVATED THE STARING CONTEST>
2
Confuse
Monsters: Dirty Rat ×3, Moth Cluster ×5
I hate to tell you this, but you've already cleaned
this one out.
Location
Fish
Bait

Rolent Sewers
Carp
Earthworm (41.2%), Dumplings (36.4%), River Snail (57.1%), Crab (37.5%)
Crab
Earthworm (35.3%), Polychaete (100%), Shrimplet (100%)
Dace
River Bug (25%), Roe (42.9%), Red Flies (69.2%)
Granakor
Crab (25%)
Liberl Carp
River Bug (33.3%), Dumplings (63.6%), Red Flies (30.8%)
Rockeater
Earthworm (23.5%), River Bug (41.7%), Roe (57.1%), River Snail (42.9%), Frog (100%), Yamany (100%), Dace (100%), Crab (37.5%)
Gallery